Eckardtesian Thought: I think, therefore I write . . .

Jesus said he had compassion on the multitude that followed him into the wilderness, and so does he have compassion on us in our wilderness of life. The wilderness exists because we ruined the Garden by sin; but still he has compassion, even to the point of redeeming us. Sermon for Trinity VII.
Powered by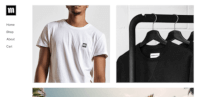 Create your own unique website with customizable templates.