Eckardtesian Thought: I think, therefore I write . . .

Everyone knew that he was innocent: Judas, Pilate, Pilate's wife (an outsider), those who delivered him, the Jews, all who were present. Jesus himself knew it, and knew that his Father knew it: "Why hast thou forsaken me?" And the governor washed his hands publicly, indicating that the verdict of the court was Not Guilty. Yet he was, of necessity, as the Scriptures said and as he himself insisted, handed over to be crucified. It was those who handed him over that were guilty. And Pilate, and everyone else there. And we ourselves are also guilty; yea, everyone else in the whole world is guilty, and he alone innocent. Why must his blood be shed, then? As he said himself: For you, for the remission of sins. This is the Holy Gospel, and our eternal cause to rejoice. Sermon for Palm Sunday is

here

.
Powered by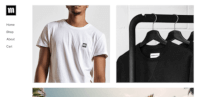 Create your own unique website with customizable templates.