Eckardtesian Thought: I think, therefore I write . . .

Today we entered Passiontide, the last two weeks in Lent. Images are veiled. All Glorias are removed. We rivet our attention on the suffering of our Lord. This is clearly prefigured in the day Abraham took his beloved son Isaac, who was bearing the wood, up the mountain of sacrifice, and was prevented from following through on the order to kill him at the last minute, by the angel, and so received him back on the third day. And so this may have been what Jesus had in mind when he told the Jews, "Your father Abraham rejoiced to see my day; he saw it, and was glad." Yet on that day Abraham called the name of the place Jehovah Jireh, meaning, 'In the mount of the Lord it shall be seen'. So there was likely more in mind when Jesus told the Jews about Abraham, for on that day it was only a preview that was seen. On the day of Isaac's birth, on the other hand, we are told that Sarah laughed (for joy), and those who were with her. So the previous disbelieving laughter of Abraham and of Sarah was turned into joy. And on the day of promise, Abraham is said to have seen the Lord himself. What do we learn from all this? That Abraham saw the Lord without seeing the Lord's glory; that he saw him even in the midst of distress (for it is written that a horror of great fell upon him); that he saw him with faith to trust his word; and that therefore he rejoiced. He even expected, as the writer to the Hebrews tells us, that if he put Isaac to death, he would receive him back to life, for it was through Isaac that the promise would come. Such faith is what we need: to trust in the darkness. To know that behind the veil is the glory of God. Behind the veneer of sorrow and suffering is his everlasting love; beneath the simple forms of bread and wine is Christ's body and blood, given and shed for us. We see him now by faith; one Day we shall see him in his glory. To hear the sermon for Judica Sunday, click

here

.
Powered by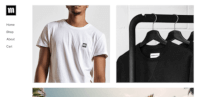 Create your own unique website with customizable templates.