Eckardtesian Thought: I think, therefore I write . . .

Our weekly radio broadcast comes on locally at WKEI a.m. radio in Kewanee every Sunday at 7:30 a.m. as many local people know. But what you may not know is that it's also available on demand on the internet. Click the link on our home page any time. Our most recent recording, an ongoing study in St. Matthew's Gospel, is in the midst of the Sermon on the Mount. It's scheduled to be on the radio on Sunday, March 4th, but it's also available



here



.
Powered by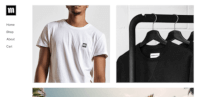 Create your own unique website with customizable templates.